I love the Jewish parodies on pop songs (especially the ones about Chanukah) that have been popularized by artists like Shlock Rock, the Maccabeats, and others. But I'm also a huge country music fan, and as the song goes, "What a sad state of affairs I'm in, when I search for songs 'bout Chanukah to make me grin… Ain't no country!"
Jewish Country Fans, Unite!
The goal of this project is to create a Jewish Country Music album that will include 8-10 tracks plus a bonus duet track, all parodies on contemporary and classic country hits.
The songs will use the humor, storytelling, and down-home feeling that make Country music unique, to teach Jewish kids, teens, and adults about their heritage, and foster in them a sense of Jewish pride.
The album's primary focus will be Chanukah songs, but other Jewish topics will be included as well.
Focus on Education & Kiruv
For each song we release, there will be a corresponding lesson plan posted on our web site, available for free download by parents, educators, and youth leaders who are seeking creative ways to teach Jewish country fans about our heritage.
The Rest Of The Story:
I've been entertaining and educating audiences since 1986. Many of my experiences over the past three decades have come together to spark this project.
I grew up in Richmond, Virginia, where I was fortunate to experience the unique life of an Orthodox Jew in the South. Although Richmond is a metropolis when compared to most Southern towns, the comforts available to the Orthodox Jewish community (i.e. kosher restaurants, broad selection of Jewish schools, etc.) pale in comparison to those available in places like New York, Baltimore, Miami, Chicago, and Los Angeles.
As a teenager in the 80s, I started performing magic. This got me comfortable on stage in front of an audience, and has continued to be a major part of my life and career to this day.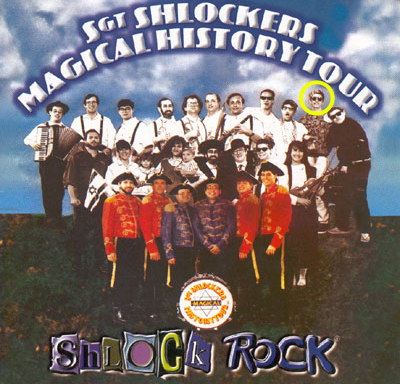 Also in the 80s, I witnessed the beginnings of Shlock Rock, a band led by Lenny Solomon, whose mission was to use parody versions of Pop, R&B, and Rock songs to teach Jewish kids, teens, and adults about their heritage, and foster in them a sense of Jewish pride. I began writing songs and performing on stage with the band, and am a proud member of the Shlock Rock Hall of Fame.
Over the years since, my work has mainly centered around two things: Jewish education and entertainment. I have worked in Jewish schools, summer camps, synagogues, and youth groups, while continuing to perform my comedy magic act, write and perform parody songs, DJ parties, and provide many other types of interactive entertainment.
In recent years, I began to develop a strong affinity for country music. I love the humor, the stories, and the down-home feeling that the genre offers. And while I started off thinking I had to be the only Jew I know who loves country music, I have met more and more Jewish country fans everywhere I go.
Also in recent years, several other groups have begun creating and releasing Jewish song parodies in the style of Shlock Rock. And as Chanukah approaches each year, there are five or six new songs about the holiday by groups like the Maccabeats, Six13, Shlock Rock, and others.
So I started wondering, why aren't there any Jewish country parodies out there? I grew up listening to Country Yossi, and while he is an accomplished singer, song writer, and all-around Jewish media giant, it's been a long time since he released any new Jewish country songs.
And so, this project was born.
The goal is to become, to country music, what Shlock Rock is to pop. With your help, we can give Jewish country fans the same opportunities for learning, laughter, and Jewish pride that Jewish fans of pop music have had since the 80s.
Sponsor Rewards
All sponsor rewards are described in detail on the Sponsorship Levels page.
Risks and challenges
In every music project there is the risk of falling behind schedule. The studio we are working with has so far been very flexible in scheduling our sessions, and have gotten everything done in a timely manner. There is also the possibility unforeseen creative obstacles (a/k/a "Writer's Block") which can never be predicted until they happen. We have a very creative group of people collaborating on these songs and don't expect that to be an issue. Furthermore, several of our music tracks have already been recorded so we are starting this project ahead of schedule. We are confident that this project will be done early!
[ The Video :: About this Campaign :: Sponsorship Levels :: Sponsorship Pledge Form ]